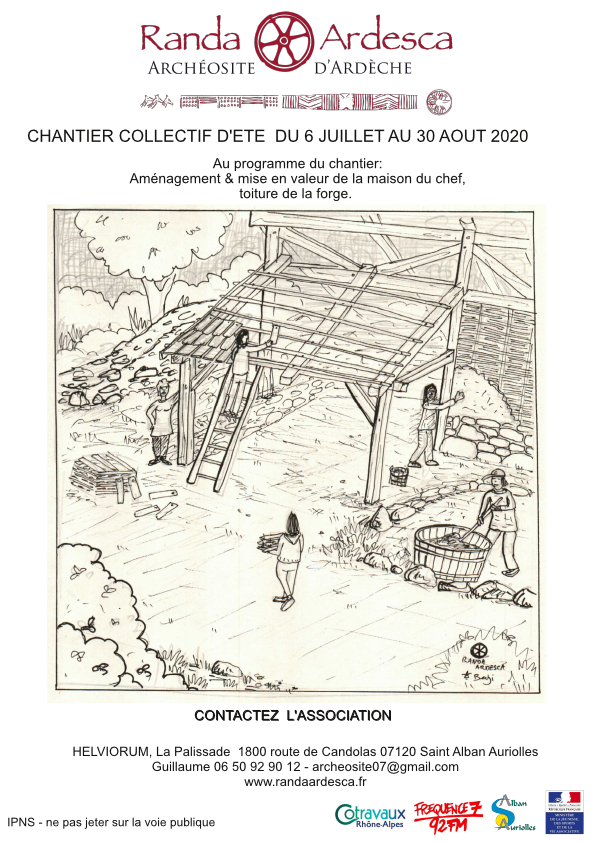 Please note: Outside the construction period and opening to the public, the presence of team members on the site is not guaranteed.
We organize collective work campaigns three times a year.
Each campaign welcomes a new team of volunteers made up of novices as well as experienced, who come back to build with us each season.
Spring campaign
It is most often held in April, over a period of 10 to 15 days. It takes place in part outside the period of opening to the public, which allows us to speed up certain operations by using modern tools.
Summer campaign
It takes place during the high season, in July and August. The open-air museum being open to the public, the campaign is made with reconstituted tools, and in Gallic costume. We have a small stock of Gallic clothing that we gladly lend to volunteers for the time of their stay.
Autumn campaign
It generally begins in October, again straddling the closing period and the period of opening to the public. This collective project is the last of the year, and ends with the Samonios festival, a weekend of exceptional opening and celebration.
The volunteers are supervised by one or more mediators of the open-air museum, and are guided on the missions to accomplish. Relaxation times and visits to cultural places are arranged by the duration of the campaign, according to everyone's preferences. Meals are taken together at the tavern and the evenings are moments of conviviality, where cheerfulness is often present.
THE PERFECT VOLUNTEER'S GUIDE
Before your registration, a bit of literature is required!
COVID INFO: to respond to the measures put in place by the government and to ensure the safety of all, the archeosite team decided to put in place a complete health protocol. Sorry, it is available in French only, but you can read it here.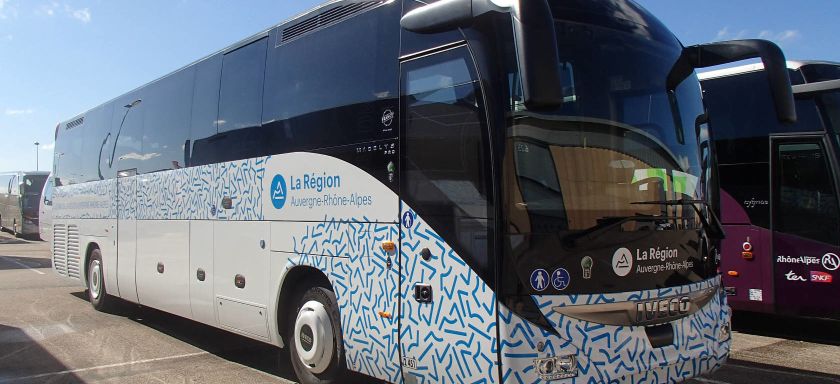 How to come
Ardèche county does not have a train network. The nearest station is in Montélimar, or in Alès. An SNCF bus network can transport you to Ruoms, the city closest to the site. If you plan to carpool, let us know. We will fix a meeting place shortly before your arrival.
Camp on the site
You have the opportunity of camping on site. Bring your tent, as well as a good mattress and a down suitable for the cold. Inflatable mattresses are however strongly discouraged! Mid-season temperatures can be harsh. Bring warm clothes!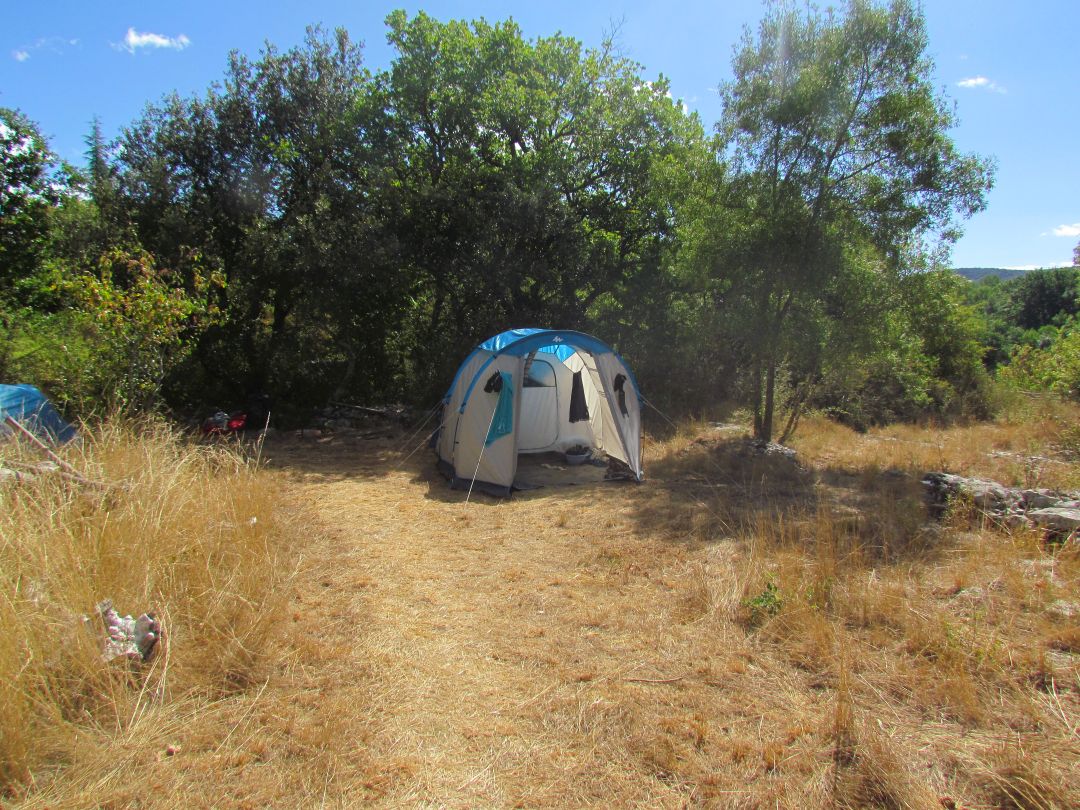 Sleep indoors
We can get you in touch with the gîtes or campsites close to the open-air museum. If a group lodging reservation has already been launched by other volunteers, we can put you in touch to join the reservation.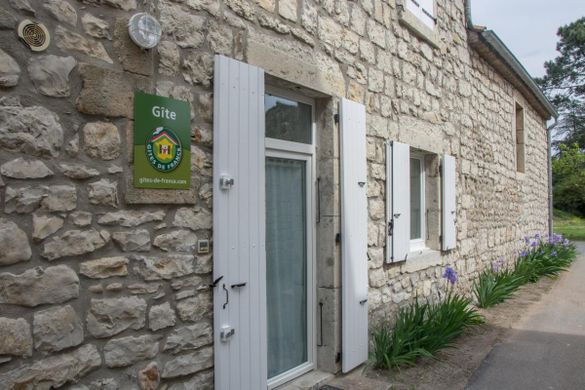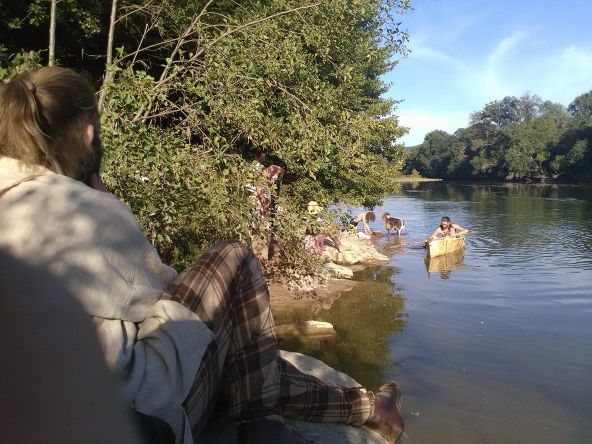 Hygiene
We have a sanitary block with 2 vermicompost toilets, 2 showers and a washing machine. We have also kept the old sawdust toilets close to the living area. Our wastewater is rejected either in phyto-purification so take ORGANIC SOAP / OUTDOOR, for the respect of the animals and plants that surround us.
Eat well
Meals are cooked in the tavern and are taken together morning, noon and evening. We supply as much organic and local products as possible. We ask you to participate in a free and conscious price (thank you, however, to take into account that it costs us about 7 € / day / person). The drinks consumed at the bar are your responsibility, at the voluntary rate.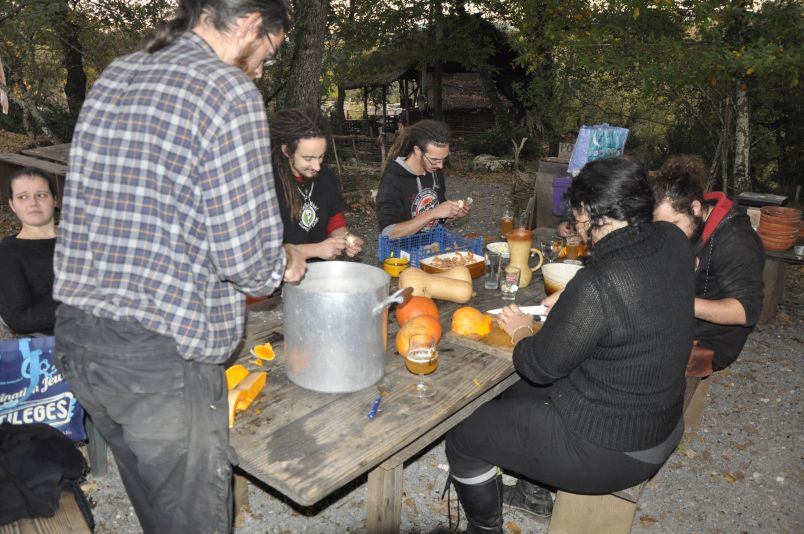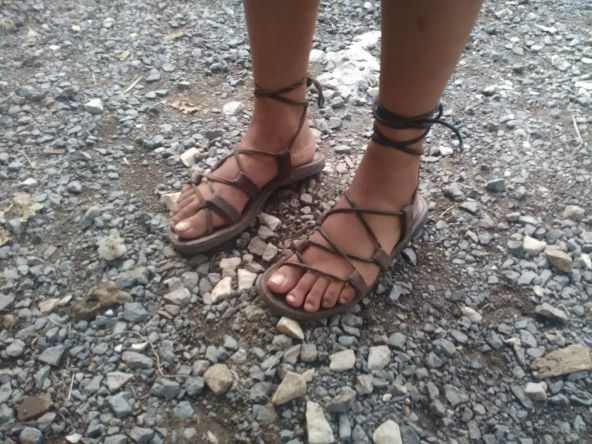 Participate in work
For modern construction campaigns, consider bringing suitable clothing, and protection if you have it; gloves, good shoes or even safety shoes …
For summer campaign open to the public, you will be asked to wear a Gallic costume. We have a series of clothes to lend. If you have historic leather shoes, or natural leather sandals without modern details (buckles, decoration) bring them!
Membership and insurance
We ask for a 10 € contribution which will make you a member of the Helviorum association. You will then be covered by our insurance in the event of a problem! To confirm your registration, we require a deposit check in the amount of € 30, to be sent to our correspondence address. They will cover membership fees, as well as part of your participation for food.
Organize
If you are looking for additional information and have some questions, do not hesitate to register on our forum (french speaking).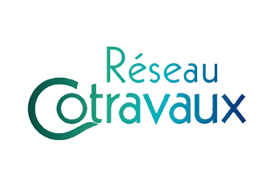 Since 2016, we have joined  the CoTravaux network.
Discover the other collective work campaigns by visiting the CoTravaux website.
.
Do not hesitate to contact us with any questions.
Direct contact for campaigns:
Guillaume +33 (0) 6 50 92 90 12
(french speaker highly recommended)

NEWS
Durant les journées particulièrement chaudes de cet été, nos bénévoles n'ont pas manqué de détermination. Le toit en chaume de la grande maison est quasiment terminé, et la charpente de la forge a été levée
L'équipe de bénévoles de ce chantier d'octobre a été d'une efficacité redoutable ! En à peine 5 jours, ils ont réussi à recouvrir entièrement les murs de torchis, et ont avancé la toiture de moitié.
Un très grand merci à Théo, Samuel G., Colain, Romain, Théan, Arthur et Camille, Philippine, Émile, Soleïam, Evan, Benjamin, Laurent, Davide, Mélissa, Corinne et Colombe, Philippe K., Corinne R., Nathanaël et Zacharie, Michka, Lucile, Véronique